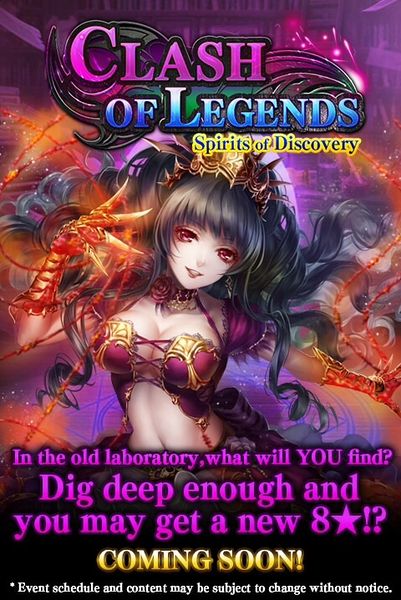 *Event Text from School Pride*
This is a another type of arena event besides Guild War, called the Clash event.
You gain BT Points by defeating foes in battles of different difficulty levels.
Battle
There are in total, 5 difficulty levels. Battles at each level will be fought between your team and a computer-controlled team of a maximum of 8 units in each side.
Four units from each team will start off the fight, the other 4 units in the team will be switched in as the first 4 fall.
You win the battle if you defeat all 8 of the opponent's team.
Arena Skills will be used instead of normal skills.
You will start a battle by consuming CP (Clash Points). One Clash Point is restored every 15 minutes. Time Elixirs will restore 2 Clash Points while Witch Brew, an item that can be obtained from chests and card packs can be used to restore all Clash Points.
You may create up to 4 teams, each consisting up to 8 Battle Units and 4 Support Units, with a total of 12 units.
Support Units will not be used to fight, but contribute by lending their skills to the Battle Units that will be fighting.
Battle Units have a total cost cap of 200. Support Units have no cost cap but only one support unit may be chosen PER SKILL.
For example, you cannot have 2 units that have Backstab or 2 units that have Critical Shot in your Support team.
Units with no skills also cannot be selected as a Support Unit.
There are also good and bad attack type matches.
For good matchups, the unit will do 1.5x its normal damage against the opponent unit.
For bad matchups, the unit will do 0.5x its normal damage against the opponent unit.
Magic Units are strong against Melee Units and vice versa.
Melee Units are strong against Missile Units and vice versa.
Missile Units are strong against Magic Units and vice versa.
Difficulty Levels
There are five difficulty levels, Rook, Adept , Veteran, Master and Legend. As the level becomes more difficult, more powerful enemies will appear. Enemies will also grow stronger as you gain more victories. Enemies from higher difficulty battles will drop rarer treasure chests.
(However, the chance of getting the chest from an enemy does not seem to increase when you attempt a battle of higher difficulty)
Victories will be counted separately for each difficulty level.
You will consume 1 CP for Rook, 2 CP for Adept, 3 CP for Veteran, 4 CP for Master and 6 CP for Legend.
The Legend difficulty level will appear randomly and has a time limit of 15 minutes. Once the time limit is up, you cannot begin a Legend battle until it appears again.
Treasure Chests
Treasure Chests may drop when you defeat enemies during battle. There are 3 kinds of chests - bronze, silver, and gold. Gold chests give the best rewards.
When the Legend difficulty level is up, all difficulty levels will have a higher chance of dropping treasure chests when defeated.
Gold Medals
Special items called Gold Medals can be found by opening treasure chests and answering assist requests.
They can be exchanged in the Medal Rewards for items and special limited edition units.
They
cannot be accumulated like Shards in training events
and they will disappear once you exchange them for rewards.
There is also an exchange limit for items and units that can be traded for.
There are also daily items which will be marked with a Today! icon and are available to trade for one day.
Assists
You can call for assistance and the cooldown will be for one hour. You can answer other players' requests by assisting them or by sending a Relay Baton.
You will gain BT Points and Gold Medals for assisting other players. Relay Batons give 500 Medals and 2000 BT Points.
The first time you assist each ally, each day, you will receive more Gold Medals than usual. Ally assist count resets each day at 2:00 am PST/PDT.
Requests that are unanswered will not be reset.
Up to 5 assists can be received per battle and an assist will give (pathetic) damage to all units on the enemy team. A Gold Medal assist will (still) give even more (pathetic) damage.
Clash Counter
During battle, the Clash Counter will count down each time a turn is taken.
The counter starts at 2-0, and when it reaches 0, BOTH teams will receive a 2X attack boost.
The count is immediately reset to 20 and if it reaches 0 again during the same battle, a 3x attack boost will be applied, followed by x4 boost and so on.
The maximum attack boost is applied at x10.
The team with the most number of units or if there is a situation if the same number of units are deployed by both players when the time limit is up, you will be the victor. (This probably will never occur.)
Skill Effects
There are 2 types of skills in this event, Offensive Skills and Defensive Skills.
Offensive Skills:
Defensive Skills: