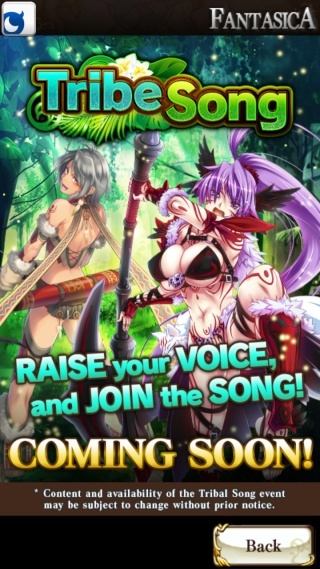 How does this event work?
This event is in no way original. It borrows many themes and elements from previous events (basically SS being lazy) to come up with something that is somewhat refreshing.
The aim of the event is to gain as much BT as possible for rank. The only way you can gain BT is to donate Arrow Heads to allies or strangers (similar to the Team events when you donate flowers for PR). Heads which can be gained in quests and from Tribal Battles (more on this later).
Gifting
On the event menu, there is a Gift menu. Gift menu will bring up your ally list and allow you to gift Arrow Heads to them. A maximum of 20 Arrow Heads can be gifted at any time. Gifting an ally will reward you with BT. Once you gifted an ally, you cannot gift them again for another 15 minutes. This cool down can be eliminated if the ally that you have gifted to, gifts you Arrow Heads back. You can gift an ally 10 times within a period; this period will reset during specific times of the day.
The more you gift an ally, the more BT will be rewarded per gift. If you have received 501 gifts, you will gain the maximum possible BT for any following gifts that you have sent, which is useful for ranking.
Arrow Heads
If an ally donates to you their Arrow Heads, this will become your Tribal Arrows which can be accumulated (like shard rewards from Training events and PT from Team ones) to unlock bonuses. You will be prompted when a reward is available when you have reached a certain Tribal Arrow reward.
Tribal Battles
Tribal Battles are boss battles you can participate in using Tribal Tickets (similar to Panel events). These can be obtained from box purchases. Each boss has a number of Tribal Tickets in order to participate.
A team can be created to battle in the Tribal Battles and this functions exactly like a Colo-type battle. The battle will have a limit of 120 DC with a maximum of 6 units. 2 random allies will join your team once the battle begins. Your team will battle another team, however, the main difference is that each of your units have their own individual health. If any of your units attack, it does damage to all of your opponent's units' health and vice versa. To win a battle, you must have more health (similar to Arena) than your opponent after 30 turns.
Winning Tribal Battles will reward you with huge amounts of Arrow Heads. If you manage to deplete all your opponent's units, you can score a perfect victory which will reward you with double the amount of Arrow Heads. After 30 battles, you can use a Potion to continue the fight in order to score these Perfect Victories if you lose.
Also, Arena Skills (E.g: Iron Wall) are not available during Tribal Battles
Push Notifications
You can send Push Notifications to players you have sent gifts to.
You can send up a Push Notification every 6 hours.
Push Notifications can be sent only to the players you are gifting at that time.
The 6-hour time limit for Push Notifications is reset daily at Fantasica Time 4:00 am, 10:00 am, 4:00 pm, and 10:00 pm.
The size of the bonus depends on the number of people you send marks to right before you send your Push Notifications. You will receive 10 bonus BT Pts for each person you send a notification to.
You will receive these bonus BT Pts regardless of whether or not your allies have Push Notifications disabled through their settings.
Crisis Quests
Crisis Quests are a special type of quests that give more gifts than normal quests depending on the difficulty. Crisis Quests have a 15 min cooldown and it will happen 3 times in a day.
Crisis Quest Timings are at 7 am, 3pm and 11pm (Fantasica/Pacific Time)
Daily Rewards *NEW*
You can collect Daily Rewards once you have collected Arrow Heads (or similar items in other gift events) from Quests.
Once you have collected the required amount of Arrow Heads, the reward item will be sent to your inbox.
This does not include the Tribal Arrows you receive from allies or strangers.
Arrow Heads collected per day resets each day at 4:00 am PST/PDT